October 1-31, 2023
The Adult Trick or Treat Wine & Cocktail Trail Begins!
For a sneak peek at the menu...watch the video.
Our third annual Adult Trick or Treat Trail is underway! Cindy, from Grand River Cellars, gives a preview of what's on the menu this year in the video below. We have some tips & tricks to make your experience even better.
Check Out the Overnight Packages First
Bundle transportation, trail for 2, overnight stay with continental breakfast-all in one transaction.
If you aren't familiar with the Overnight Packages available for this trail, this is a good place to start. Packages are all-inclusive for TWO GUESTS and start at just $280 and include shuttle service from your chosen Wine Country Hotel (Hampton Inn or Holiday Inn Express) to each of the locations on the trail, the trail package for both guests at each location, transportation back to the hotel, overnight stay & continental breakfast. You arrive at your hotel by 10am, check in and come back to the lobby to board the shuttle by 10:30am. You get an early start and get to all 6 stops in one day. After checkout the following day, you're free to explore the Grand River Valley at your leisure!
Plan your Route
There is a method to our madness.
Driving yourself? We can suggest your best route. Start early at Cask 307! Cask 307 opens at 11AM & welcomes trail-goers before the 12PM start time. The Apple Crisp Cheesecake they are featuring for this trail makes a great breakfast! Stop at Grand River Cellars next. They have a full restaurant menu and make a great "lunch stop" along your way. Hit Debonné Vineyards next. Of course, we have a great menu as well, so if you weren't quite ready for lunch yet, you may be by your third stop. If you take our advice on your route, there are no lunch options at your next two stops, so you may want a little something before you move on. We suggest South River Vineyard as your third stop. Red Eagle Distillery & Black Door Tavern are your final stops on our suggested route. Same parking lot! Black Door Tavern (bar) opens at 1PM Sunday through Thursday and opens at 3PM Friday & Saturday. Black Door is definitely a hot spot for dinner, so if you decide to make this your last stop Fri/Sat/Sun & want to stick around for dinner, give them a call to make your reservation 440-466-6604.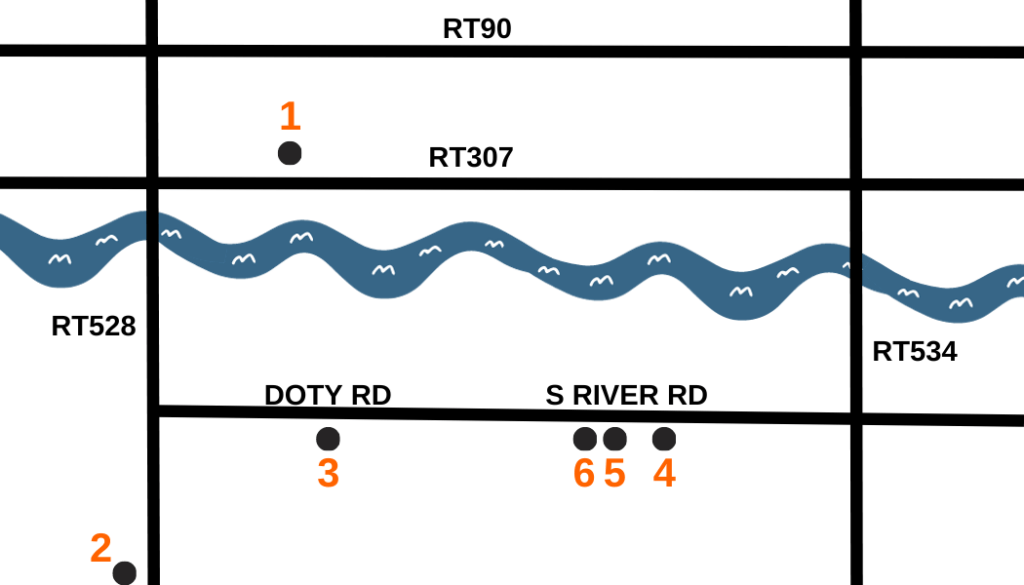 Don't Forget the Souvenirs
Grab something to remember us by! At Debonné Vineyards, Cask 307 & Grand River Cellars, we have our long-sleeved trail tshirts available. Due to the nature of the limited-time trail, sizes can be in short supply at a given location. If you want to make sure you get a shirt in your size, grab it when you find it at one of those 3 locations. Shirts are not available at South River, Red Eagle or Black Door, so get one while you are at one of the 3 that have them. IF your size is not available at any of our 3 locations, let us know that you want one! We may reorder and can hold one for you for pickup when they arrive. Or we'd be happy to ship to you (+ shipping cost).
New this year: 4 bottle reusable wine bags! Who wouldn't want wine in their trick or treat bag? Free with 3+ bottle purchase at Debonné Vineyards, Cask 307 & Grand River Cellars. $5 to purchase.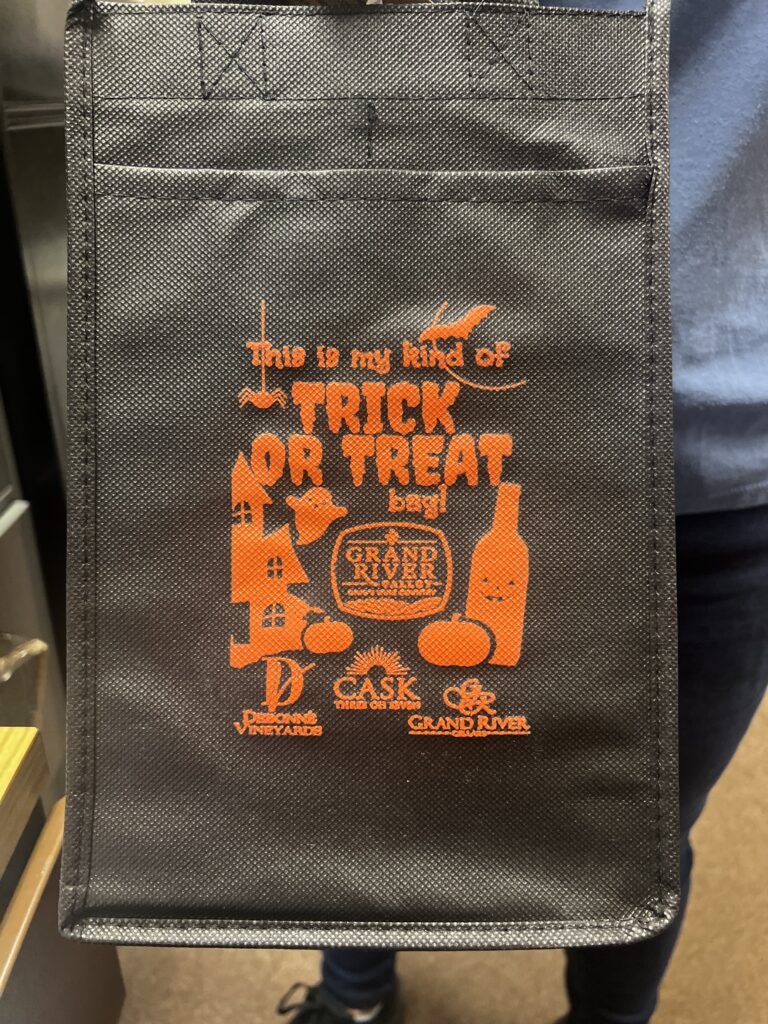 Treat Yourself to a Cocktail
The cocktails featured at an additional cost at each location are seasonal, available for a limited time and delicious! Don't miss out and pass them by. Some were created by our mixology teams just for this trail, some are adaptations of other cocktails with seasonal ingredients or wine instead of liquor. The teams at each location toiled over the perfect drink for you to enjoy on your adventure. Give it a shot. You may not get another chance to try them!
Try the Wines
Nibble, sip, nibble, sip if you're hesitant on the wine. Sip, nibble, sip, nibble if you're already a fan!
The wines chosen to pair with each dish along the trail were chosen for a reason. Give them a shot. One of the reasons the trails include small samples in lieu of a glass paired with a dish is so that you get an opportunity to TRY the wines, even if they may not be wines that you would choose yourself. Our Zombie Brains Mac & Cheese is paired with Riesling & Pinot Noir. These two wines are ideal for mac & cheese! The slight sweetness of the Riesling balances the saltiness of the cheese and the acid cleanses your palate between bites of rich cheese sauce. The fruity notes in Pinot Noir are a perfect pairing for cheese in general (think wine & cheese). Even if you're nervous about trying a style that may not be your favorite, have a little sip and expand your horizons!
Take Home Your Favorites!
We DO have an ulterior motive!
The best compliment you can pay a winery is to take home a bottle. We do hope you find new favorites. We do hope you're inspired by our pairings; and we DO hope you'll take home your favorite wines!